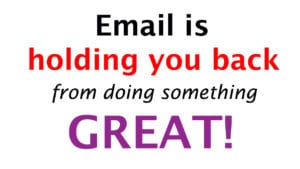 If you've ever entered an online contest, offered your email address to an online or local store, or given the okay for a sales consultant to send you information, you've joined an email list.
Email lists are simply the email addresses and names of people who signed up, by one of many different means, to receive emails such as electronic magazines ("e-zines") or newsletters, electronic courses (e-courses), or product information in their inbox.
Collecting customer and prospect contact information and keeping in touch with them on a regular basis is the key to any online business's success.
Here are some of the main reasons to start building your list:
Presence – An email list that you use regularly gives you an easy way to keep your name in front of your customers and prospects on a continual basis.
Connection – Your average customer may only purchase from you a few times a year. But you continue to stay in touch with her, providing her with quality information that relates to a topic she's interested in. When she DOES need to purchase, you'll be the one she buys it from.
Education – Some products and industries require more education before prospects are ready to purchase. Email lists offer an easy, inexpensive way to provide the information your prospects need, moving them through the learning curve, until they're ready to buy.
Feedback – Do your customers want your next product to be bigger or smaller than what you have now? Do they hate the background music on your website? Do they wish your software was compatible with a platform you don't currently offer? Don't guess — just ask them!
Easy to Share – Word-of-mouth can be your best source of new business. By providing easy-to-share electronic newsletters or product information, you make it more likely that your current customers will pass the word to their friends, without incurring a minute of your time or a penny of your money.
Those are some great reasons for building a list but how do you know what to write and when?
There are 4 primary types of email sequences every business needs.
They are:
Nurture Sequence for your freebie – Follow Up Sequence – behind an optin
Transactional Sequence – Follow Up Sequence – behind a purchase
General/Newsletter Sequence – an email you send out at regular intervals to your list
Launch Sequence for a Program – promotional emails
What is the goal of a nurture sequence?
-build new relationship
-lasts 15 to 21 days
What is the goal of a transactional sequence?
-eliminate buyer's remorse
-remember results sell
What is the goal of a newsletter?
-educate & Build TOMA (Top of Mind Awareness)
-send a weekly newsletter
-EXAMPLE: Tuesday Tips. Wednesday Wins
What is the goal of a launch sequence?
-sell something
-average 3 emails per week
You now know the what and why, now it's time to work out the how.
Guess what? I'm gonna teach a class on exactly what to do and how to do it for each of these sequences.
==>Join me on January 10th and I will help you do just that!<==