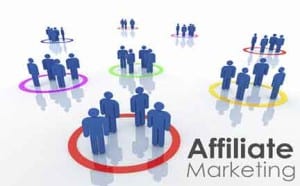 Do you want to know how to work with affiliate marketing? If you're looking to create an online business, I've no doubt by now you'll have heard the term "affiliate marketing". Affiliate Marketing is just one way to earn an online income, we'll be covering other methods in separate articles.
I need to explain a few things first so bear with me, I'll try and keep it short and simple!
What is Affiliate Marketing?
TAKE NOTE, Before you apply to join affiliate programs you need to have plenty of good unique posts written
There are 3 components to affiliate marketing
Advertiser – the advertiser can be a company selling a product like smartphones, airline tickets, clothes or kitchen gadgets. They could also be an insurance company selling policies. As an advertiser, you are ready to pay other people to help you sell and promote your business.
Publisher (this is you) – the publisher is an individual or company that promotes these products and services in exchange for earning a commission. The advertiser provides you with special banners and links that have a unique id. You incorporate these into your website and earn a commission when someone makes a purchase or signs up to a service.
Consumer – To complete the affiliate triangle you have the consumer. The consumer is the one who sees your advert and decides whether to "click" or not. Once the consumer completes the action, whether it's purchasing a physical product or signing up to a service, this is called a conversion.