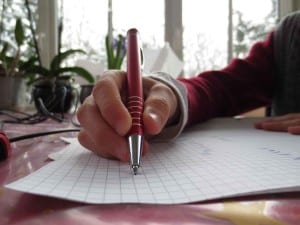 Do you want to know how to write your first blog post? You've chosen your niche, set up your initial website and published your first pages. It's time to write your first post. If you've never written before this is scary stuff! Don't worry, by following some simple guidelines and you'll soon be wondering what you were worrying about.
The video below will show you how to add a new post, where your title goes, and where you write the main content.
Choosing a Topic
Obviously your first article is going to be about something within your chosen niche. Everyone uses different methods for this, but it's important to take time to do some research, jot down some notes.
If you've never used mind mapping this is a great way to get ideas and you'll often find you end up with many subjects to write about. Tony Buzan has some excellent books on this subject and an informative website, worth taking a look at if you struggle to come up with creative ideas for topics.
Think about the reason you're writing the post, picture the readers you'll be talking to. You are identifying  a need, solving a problem and leaving room for your readers to ask questions.
Choose a topic that means something to you, this comes across when you're writing and helps create a better connection with your readers. Google Trends is a great way to get ideas for topics that are current and popular. You can also check out this post for generating writing ideas.
Choosing your Post Title
Never underestimate the power of a headline. The big newspapers have whole departments dedicated to writing good headlines that capture a reader's interest. When you go shopping and walk past the newspaper and magazine section, what catches your eye?
"Don't take selfies when driving"
or
"Driving Selfies' As Dangerous As Being Drunk"
You have only a few seconds to capture the attention of a reader and composing a good headline is the way to do it'
Once you have some ideas for a title do your keyword research and find the best fit for your topic.
Starting to Write
Use the focus keyword you found when doing keyword research in the first paragraph of your article, as long as it reads naturally.
After the headline you have another opportunity to hold your readers attention, the first paragraph is where you do this. You are identifying a need and providing a solution. Look at the first paragraph in this post, your need – you want to write your first post, the solution, providing guidelines and tools to achieve this.
Asking a question in the first paragraph is another way to keep your readers attention. Not only does it outline what your post is about, it also comes back to the "need" and the potential solution.
Depending on your chosen topic, opening your post with something controversial is a great way of grabbing the reader's attention. Stating your opinion on a product, person or company for example, draws people in, they want to give their opinions too!
The Body of Your Post
This is where you can let your creative juices flow. You've identified a need, captured the interest of your reader and can now get into the nuts and bolts of the solution.
Write as if you're talking to an audience, in the first person, like I'm talking to you here. Visualise making eye contact with someone, connecting with them.
Always stay on topic, don't wander ooff toanother subject. Have you ever had a conversation with someone who does this? You'll be really interested because of their opening lines thinking "wow this sounds interesting" 15 mins later, you're still waiting for them to get to the point and yyourattention has wandered off somewhere else!
Some people like to tweak and edit their posts as they write, others like to simply write, then go back and fine tune afterwards. Others might use bullet points then fill in the gaps, do whatever works best for you
Finishing and Polishing your Post
At the end of your posts ,you want your readers to do something, this is called a "call to action" and helps build a relationship with your audience. Don't assume that your readers will take action, invite them to do it.
Because this is your first post it could be something as simple as asking them to leave a comment with a sentence like "What do you think? Leave a comment below". If your post is a review and you want your readers to buy something, invite them, give them a way to do this easily in the finishing lines.
Before you hit publish, go over your post and use a spelling and grammar checker,( Grammarly is a good one).
Did you find this article helpful? Anything else you'd like to know about writing your first post? You can leave a comment below or contact us here.
Here you can find a step by step checklist for setting up your wordpress website.