We get asked how to add a link widget in WordPress, A LOT! The process is very similar to putting an image in your sidebar, (the one in the video we showed in a previous post explaining what widgets were).
It's a simple 6 step process and if you've already added an image in your sidebar then you'll recognize this process.
How To Add A Link Widget In WordPress
Step 1 – add a new page, you won't be publishing this, just keep it in draft. Give the page a meaningful name, like "link widget in WordPress".
Step 2 – making sure you're in visual mode type the words you want to show in your sidebar widget.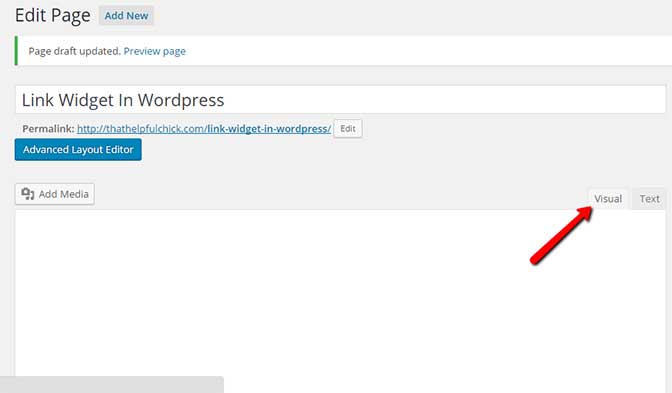 STEP 3 – highlight the "click here" text and click on the chain link icon. This will bring up a window where you can add the link where you want people to go when they "click here". This goes in the URL field, you can also choose whether it opens in a new tab (personal preference).

STEP 4 – instead of the visual editor, you'll now move to the "text" tab (not the visual tab) where you'll see a bunch of code. Highlight all the code, making sure you don't miss any and copy it.
STEP 5 –  go to "Appearance" – "Widgets" and add a "text" widget to your sidebar (or whatever area you want the text link to show). Adding a text widget tutorial is here.
STEP 6 – Paste the previously copied code (step 4) into the box, click "save".
That's it, you should now have a text link widget in your sidebar!