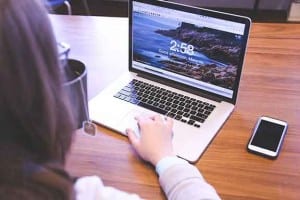 A virtual assistant (VA) is a person (independent contractor) who provides support services to businesses from a remote location. The term originated in the 1990s as the ability to work virtually, due to technology improvements like high-speed internet and document sharing, made working remotely a reality. 
What does a virtual assistant do?
Virtual assistants are especially in demand by entrepreneurs and online businesses that need help but don't want to bring on staff at their location. However, many small and mid-size businesses use virtual support, especially for specific tasks, such as social media management.
There are many tasks a virtual assistant can do for your business; including but not limited to: bookkeeping, data entry, social media, website maintenance, writing, travel arrangements, appointment scheduling and online file storage management.
A virtual assistant operates remotely but can easily access any necessary documents, images and calendars online. They have become more typical as businesses increase their need for an online presence and assistance. As an independent contractor, a business doesn't have to provide the same benefits as a full-time employee.
Because of the growth in this industry, many states are recognizing a need for legally defining this position. California has already passed a law regarding worker status: employees and independent contractors. You can read a copy here and in Sec. 2 it states the 3 conditions that must be met for someone to be considered an independent contractor. I imagine other states will eventually follow suit.
Hiring a virtual assistant
Hiring a virtual assistant doesn't have to be a monthly expense if you're not ready for that. Look for our article on the difference between projects and retainers coming soon!
Would you like to find out more about how a virtual assistant can help your business? Schedule a free call with me at http://bookacall.pro.