I've seen many emails the past few days about reflection and New Year's wishes and end of the decade musings. After reading these it's hard not to do a bit of your own reflection on what the past 10 years has been like for you.
2010-2011: I entered into a new relationship and married a man who ended up being a most toxic person and brought nothing but pain and hardship to my life. I left a 10 year career working in corrections because of him. My first grandchild was born in August 2011 – a beautiful girl.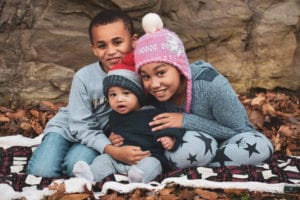 2012: Thankfully it did not take me long to get the courage to leave my husband even though I did not file for divorce. I was of the mind that he had taken enough money from me while we were together and I'd be damned if I was going to pay for a divorce! My second grandchild was born in August – a handsome little boy.
2013 – 2014: I worked a few menial jobs until my back pain got to the point where it was difficult to stand or sit very long and ended up quitting working. I was diagnosed with Degenerative Disc. I lived with my daughter and she supported me for a few months, which didn't sit well with me. I searched online for ways to make money and found a training which taught me how to build websites and affiliate marketing. This is also where I met my very good friend Kathy who works with me. I began taking on the odd job building websites for others.
2015: I officially created my current business That Helpful Chick. I started working more and was making enough to cover my personal bills.
2016 – 2017: I made a lot of mistakes which taught me valuable lessons in business. I made my first trip outside the US and went to Scotland for 2 months in 2016! In 2017 my business grew and made $34K net income – my first truly profitable year.
2018: My husband, whom I never divorced, was murdered in July due to the lifestyle he was living. Towards the end of this year, I discovered a desire to change the way I look at life, business and my relationships. My business grew even more and the net income increased by nearly 25%.
2019: This year I made my 2nd trip to the UK. My business grew even more and the net income grew another 25%. We also now have a team of virtual assistants to help our clients. 2019 has been my year for personal development. I've learned a lot about myself and changed a lot, for the better. My third grandchild was born in May – on my mother's birthday! He already has us all wrapped around his wee fingers. On December 28th I turned 47. I have to say, it does not feel like I thought it would. You know, when you're in your 20's, you think anything over 45 is old! 🙂
I feel like my life is just beginning and there are many more adventures and discoveries coming my way.
Have you ever played those FB games where you click and they give you a word for the year? I did one last year and my word was Love. It couldn't have been more true. 2019 was all about learning to love and be loved. Not the romantic love but more on a basic level.
For 2020, I feel like my word is Hope. Now don't confuse hope with wish. Wishing is dreams without action. Hope is more trusting in what is to come and taking action to make it happen then having faith that what you hope for will come to pass.
I also feel like moving forward, the lesson I have learned the most in 2019, that I must focus on what really matters. Stop wasting resources in life and in business. For example, worry and stress can be a massive suck on your time resource.
I plan to be a more conscious leader going forward. I plan to live ON PURPOSE for A PURPOSE.
I have a business I love, a team I love and clients I love to work with. My family is happy and I am able to help my parents who are now retired. That is the best gift anyone could ask for.
I invite you to give yourself the gift of help in 2020. I'm not selling anything. I'm not one of those pushy people who are going to get you on a call then try and pressure or scare you into handing over your hard earned money. What I am offering is a 100% free 1 hour call with me to discuss your business needs and see if we are a good fit. You have nothing to lose and everything to gain. At the very least, you may just walk away knowing the best systems/tools/software for you, your business and your budget!
Also, if you know anyone who might be interested in a chat, feel free to share this message with them as well.
Just go to my calendar and schedule a call today. http://bookacall.pro/
I look forward to speaking with you 🙂
Happy New Year!
Angela